What a weekend!
DuoCacib Nitra - Slovakia
Pepper - Revolution Breeze SHOT OF FINLANDIA - 1XCAJC
Sheck - Revolution Breeze SHECK EXLEY - 2XCAJC
Greta - Yukki Hill TO KISS AND TO HUG - 2XCAC, 2xCACIB, 2xBEST OF BREED
Helsinki - Finland
Leon - Revolution Breeze STARKILLER got Helsinki Junior Winner title and was second in his class with Jun Exe2, CQ at Nordic Winner and Jun Exe2 at Finnish Winner!
We are super happy and proud! Congrats Sari and Leon!
Our team: Pepper, Sheck, Greta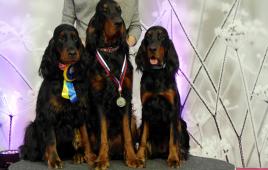 Our team: Greta, Sheck, Pepper
photo
photo
photo
photo