It all started as a dream
When I was a little kid, I dreamt of owning a dog. Together with my sister, we used to collect dog breed figurines and we used to watch illustrated dog books. That was all we had, as our parents didn't want to buy us even a hamster.
Till the time when Maks appeared in our lives. Maks was an Irish Setter, kept at a kennel on a short chain by a bad man. Instead of a red coat down to the ground, seen in our illustrated books, he had marks of violence and matted hair. He was stinking horribly, and he was overeating as he couldn't believe that our mum had a fridge full of food prepared just for him. Maks happily lived with us to a grand old age, proving his love for us every day. Above all else, however, he showed us what does it mean to have a setter in a family and he made a word 'setter' a synonym of a word 'dog' to me.
I knew when I grew up a setter would live at my home.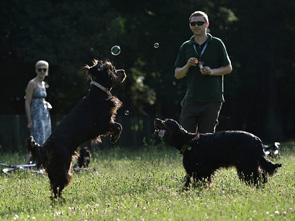 The process of growing up took a while longer, but in the summer of 2010 the decision of enlarging the family was made. Is September we set out to Lubartow to get Tiamat – our first black princess. Tiamat showed us what raising a little setter is about. We discovered the world of dog shows, we completed a hunt test. And finally we decided that one setter is not enough, and we started to search for a second girl.I found the dream mating and the dream kennel. Although we hadn't even had a registered kennel name yet, we hadn't existed in world dog shows, Alexandra bestowed a high degree of trust in us and decided that we would make a home for one of her girls. Thus, in October of 2011, with our hearts in our boots, we went to Berlin to pick up Ronja, who was coming all the way from Saint Petersburg. A month later we registered our kennel name Revolution Breeze. This name describes not only the Gordon Setter character, but also our attitude toward pedigree dog breeding in Poland. And then…Greta arrived to make our pack complete. And our life became much more crazy and full of doggies' business.
Our kennel isn't big and it never will be.
Our dogs are our friends, not a source of an income.
And the number of your friends should be that high that it will let you to devote as much time to each of your Our dogs deserve the best. This is also the reason why we came up with the rule that none of our bitches will have more than three litters in a lifetime and will never have puppies two years in a row. Both of us graduated in zoology and we work as zoologists. We are familiar with animal physiology, the basics of genetic heritability and we are aware that to be a breeder you need to be humble in front of genetics. Dog breeding may be perceived as an art, but it mustn't be forgotten that it's also a science. And this is exactly what we plan to stick to. We demand a lot from our dogs, but much more from ourselves, and that's why, at our home, happy setters and happy people live together. There is no greater happiness than a setter. Well, maybe two ...or three. On our way at the beginning we had a chance to meet fantastic people who offered us all their. Our story it's a tale about a little girl who had a dream about green carpet and sometimes when you have friends, dreams become reality. In 2015 Baby Greta took us to Birmingham and got a reserve on Crufts carrying with pride a flag of Yukki Hill Kennel.
Dreams come true only if you meet friends on your way. And we are grateful to all our friend their support, sincerity, forgiving mistakes, second chances, smile and tears, for making a party on every dog show, for the best handling, the best grooming, the best vet care, the best pet sitting and first of all for the best family ever. Thank you for let us be part of it!